Joanne Young is a 25 years old illustrator living in Melbourne, Australia. Unlike most artists, she happens to also be a lawyer, who now only does freelance illustration on the side – and she does it very well. You definitely don't see that everyday!
With a major in creative advertising, Joanne has worked as a freelance illustrator and graphic designer over the past few years, doing personal commissions, artwork for small businesses and some agency work. Although this is not her main occupation, she is open to commissions – so if you're interested, go ahead and contact her!
Her illustrations revolve around fashion and beauty, and the girls she draws are absolutely stunning! Just take a look below.
Drawing has been a hobby since I was young
Your drawings are amazing. Have you studied art, or are you self-taught?
Drawing has been a hobby since I was young, but I did do art in high school and my undergraduate degree was in design (although my major was in creative advertising rather than illustration). I guess I would say I am half studied / half self taught.
Are you currently a freelancer?
I've actually just become a lawyer, but I am always available for freelance if the right job presents itself.
Where does your work usually appear? (like editorials, advertising etc)
On the internet!
A day in your life – what does that look like?
Can't see, computer screen in the way. Okay, that's only on a bad day 😛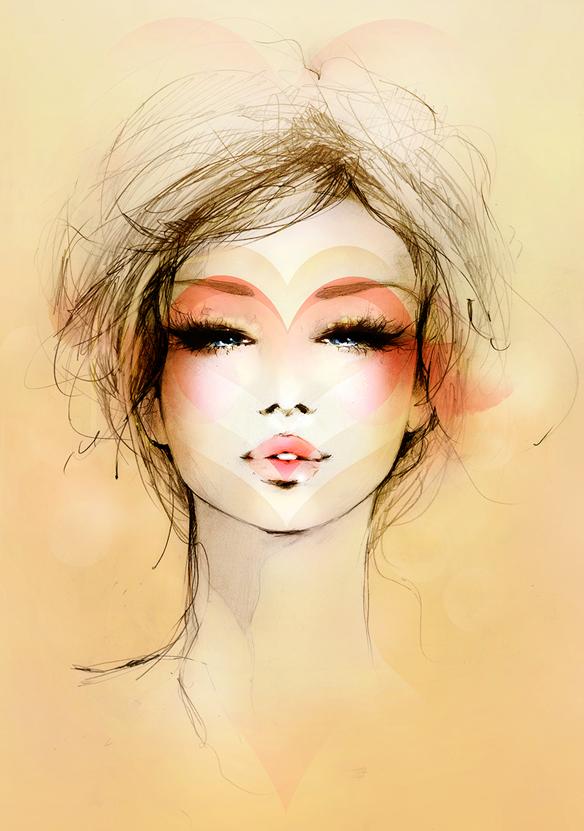 Do you use real-life material for inspiration? The characters you draw – are they real, and if not, what inspires you do create them?
I'm quite inspired by fashion and portrait photography. The characters I draw are sometimes based on real people, but most of the time they kind of turn into their own character. I always use some sort of photographic reference to at least get the angles and proportions right though.
The characters I draw are sometimes based on real people, but most of the time they kind of turn into their own character
What is your work process, how do you get from a white sheet of paper to the final piece?
I start off with the eyes (I like to start there because its the first point of connection when you look at someone) and build the rest of the drawing around that. Once I have the pencil/ink illustration done, it gets scanned into Photoshop where I can spend any amount of time adding extra elements and playing with colours, shading and blending modes. I particularly enjoy doing the colour in Photoshop because you can change it so easily and play around until you get something you like. Its like experimenting with make up but without the hassle of having to remove it between looks.
What tools do you use? (from the traditional ones to the digital)
Tradtional – pencil, ink, lately I've also been experimenting with brush pens
Digital – Photoshop, and the Wacom tablet is a recent addition
Why all the girls/guys with cool glasses in your drawings?
I wore glasses for many many years so maybe I was just trying to make other people see that glasses could be cool, hahaha. Apart from that though, I think they can make a face look all the more interesting.
What would be your ideal project, what would you love to put your signature on?
Anything fashion related would be great. Or maybe a magazine feature or a perfume advertisement. Or a calendar. I've been wanting to do a series of 12 portraits for a calendar for ages.
Keep drawing, look at other art, learn from other people's style and don't be afraid to experiment
What would you advise anyone who loves your work and wishes to someday be able to draw like that?
I would advise them to just keep drawing, you really do improve the more you practise. Look at other art, learn from other people's style, don't be afraid to experiment – but also focus on your own strengths and what you naturally really just love to draw. Hopefully it will all start to come together and eventually you'll develop your own signature style that you can be proud of
See more of Joanne's work on her: website | deviantART | Made of Awesome
[Later Edit: Unfortunately, Joanne's blog is no longer available and she is not available for commissions, as she is now focusing on her law career.]