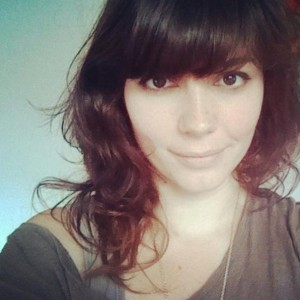 Lois van Baarle is a talented digital artist and animator, currently living in Utrecht, the Netherlands. Although born in Holland, she admits having lived "all around the world', including the US, Indonesia, France and Belgium.  Her career, however, is even more interesting. A specialized animator, Lois works as a freelancer, dividing her time between illustration and animation. She is a partly schooled, partly self-taught artist, which leads to an amazing combination of skills which she sometimes shares, step-by-step, in video tutorials of her work. Her expressive character designs are probably what most caught my attention when admiring her artwork, so I decided to find out more about how she developed her skills, what her work process is and what brought her to where she is now.  In short, I wanted to see who is the artist behind the designs. Lois was kind enough to answer my questions, below 🙂
I suspect that people who learned graphic design in school are more flexible in adapting their method of working and visual style
You're a graphic designer, as well as an animator. What is very interesting to me is that, while you studied animation in college, you have no studies as a graphic designer. Do you feel like you missed anything by not going to graphic design school? Or is learning by yourself as good as any school, as long as you are very determined?
I'm not sure if 'graphic designer' is really the right term; I call myself an illustrator (although in many ways my work doesn't strictly fall into that category) and lately I've been more of a concept artist than anything else. I definitely missed a few things by not formally studying this topic. I'm still learning how to adapt my style to new projects and take a more formal approach to my design process, which is something I could have of course learned in school. However, I think I gained more from studying animation and using those skills to supplement my illustration work. Learning by yourself is definitely a valid way to develop your skills, but it's not the same as schooling! As a self-taught artist I often find that I have to re-assess my personal way of working time and time again and make it more efficient and professional. I suspect that people who learned graphic design in school are taught to integrate this into their design process and are more flexible in adapting their method of working and visual style.
What kind of tablet do you use?
I actually switch between an Intuos 4 and a Cintiq 24HD at the moment. Although the Cintiq is amazing, I try to force myself to draw with my normal tablet from time to time, since it can be pretty weird to switch back to a normal tablet after adapting to the Cintiq but I don't want to fall out of practice! Sometimes, when I'm working on location for a client, my only choice is to take a normal tablet with me since it's basically impossible to casually transport a Cintiq (it weighs like 30 kilos). So I need to make sure I can still handle the normal tablet for professional reasons!
Do you also use traditional tools, like pencils and paper, in your work?
I occasionally sketch on paper, mostly for convenience (if I'm traveling and I don't have my laptop with me, for example). I used to draw detailed line work in pencil because it was much more precise, but now that I have a Cintiq, there's no need for that anymore! I have to say that I almost never use traditional tools anymore, something I want to change someday in the future when I get the time to get back in the swing of things. I'd love to paint canvases, but have a lot to learn before creating a finished piece.
There are animations that I simply wouldn't have understood or cared about, had I seen them before studying animation in college
You say that you try to put more emphasis on "flow and expression than on anatomical precision". Considering that you are a self taught artist, do you have any advice for learning body proportion, when it comes to character design? Are there some simple tricks to get it right, or does it come naturally, after a lot of practice?
I personally am not aware of any simple tricks. It took me a long time to feel comfortable drawing bodies and it came from just practicing a LOT. This blogpost says a lot about how many years of practice it took for me to feel at ease with body proportion and posing. I still approach this intuitively rather than from a technical viewpoint.

I can't help but notice that many of your female characters look a lot like you. While creating them, do you identify yourself with some of them?
I don't make a conscious decision, while drawing, to make my drawings resemble me. But I do try to create a sense of believability with the characters I draw. I want the details of the character – for example the eyebrows, the corners of the mouth, or small imperfections – to convey a sense of the character being tangible and human. And I definitely use myself as a reference for details like that. People who know me in real life say there are some similarities between my appearance and the characters I draw, but wouldn't go so far as to say that my characters really look like me.  One of your drawings shows two teens sitting in front of an apartment building with an octupus painted on it. Is this a real place, or is it just something you imagined? It's something I imagined! I find run-down, urban settings to be strangely beautiful and I love the feeling they evoke. It probably has something to do with spending the first four years of my life living in a flat like that, it's very nostalgic for me.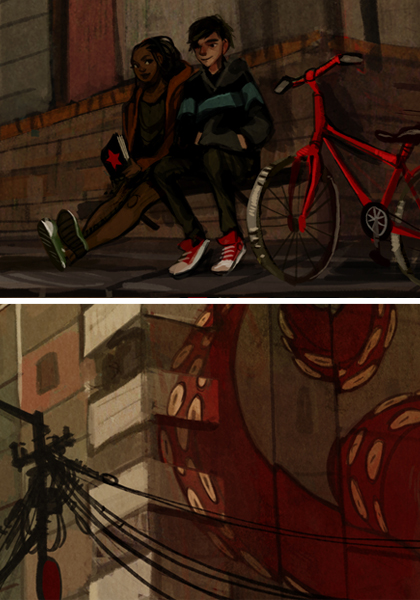 In animation, character design tends to revolve more around simple, expressive shapes and very efficiently placed detail. In gaming, there seems to be almost an unlimited amount of detail you can put in the the designs
You stated, at some point, that you have a lot of friends who draw or animate. How important is it, surrounding yourself with people who do what you do? How much does that help you evolve and how?
I can only speak for myself in this situation, but for me it's been of crucial importance to have creative people around me. My career path shapes how I see the world and which details I notice. There are animations that I simply wouldn't have understood or cared about, had I seen them before studying animation in college. But now, as an animator myself, I look at these things with a totally different perspective which makes me much more sensitive to the techniques and visual language of animation. I think it's really important to be able to share these perspectives with the people around me, and discuss and debate them, otherwise I feel my creative growth would be stunted. Having other animators and artists around me to have these discussions with is very important! But I can imagine being surrounded by people who do the exact same thing as you can be stifling as well. I can't say that I have anyone in my immediate environment who does the exact same thing I do, although our career choices often overlap.
If you had a top 3 animated films ever, what would it look like?
My top 3 animated films of all time would be: 1. The Land Before Time, 2. Triplettes de Belleville, 3. The Animatrix (technically not an animated film, but oh well!)
Your range of work is quite diverse. Have you ever considered doing any artwork for the gaming industry?
I actually just finished work for Guerrilla Games, who created the Killzone series. It was my first experience working on location for a triple A gaming company and it was really great. In animation, character design tends to revolve more around simple, expressive shapes and very efficiently placed detail. In gaming, there seems to be almost an unlimited amount of detail you can put in the the designs, and cartoony shapes and forms are rare. I found it difficult but also liberating and enlightening to work in a more "game-y" mindset! And I hope it's not my last experience with the gaming industry because I really enjoyed it.
After graduating from school I realized that life as an artist is much more flexible than your teachers make it sound
You have mentored people interested in becoming artists, which I imagine is very rewarding! How was that like?
I've done some mentoring, yes, but actually very little! I find it is very time consuming so I've had limited experience with it. I recently helped out an illustration student here in Holland and what I find particularly rewarding is being able to give students a perspective based on actual work experience. I've noticed from my own years as a student that teachers tend to give you the idea that some things are no-no's, like drawing anime for example, and you can never do them if you want to be taken seriously as an artist. But after graduating from school I realized a lot of these things weren't true and that life as an artist is much more flexible than your teachers make it sound. There aren't that many rules, actually. So I enjoy being able to share this knowledge with students and help them gain a more practical perspective on their own work!
Your video tutorials and other tips are very helpful to other artists and people who want to learn (I know I, for one, found them super useful). Are you ever planning on holding workshops, to teach others what you do? 🙂
I definitely want to do more with tutorials and teaching others how I work, since so many people are curious about these things and want to learn them from me. There are so many platforms to do this, ranging from actual workshops to online classes. I'd like to explore the possibilities there, but these are plans for the distant future! First I want to release an artbook and finish my personal animation project, the Trichrome project!
What is your biggest dream, when it comes to your work, in the future?
My biggest dream is to be able to make a living fully off of my own personal work. I love doing freelance projects for clients, but I would like to be able to depend fully on an income from artbooks, prints, personal projects, and other things that I come up with myself. That would give me a lot of freedom to develop my artwork in my own way. Right now it's actually the other way around – I depend on my income from freelance projects to be able to do personal projects, and for that reason it's hard to keep my schedule free for personal stuff and spend as much time as I'd like on it. Hopefully that will change some day!
See the photoshop sketch process from Lois van Baarle on Vimeo.
Lois also shares some awesome tips & tricks about her work (brushes, textures and more) here. If you are an illustrator, or just very passionate about drawing, you will definitely find her resources super helpful!
See more of Lois' work on her: website | blog | deviantART | facebook | twitter