Bethany Grace White is a young freelance illustrator from England, currently living and working from "a little island in the middle of the Irish Sea", as she says in her bio, the Isle of Man. She has graduated with a BA Honors in illustration from Falmouth University and now, under the name Toadstoolcheeks, she is creating amazing illustrations inspired by the mythology and landscapes of the Isle of Man.
A lot of Bethany's work is mixed media based, as she uses photographs from her surroundings as backgrounds, on top of which she draws epic characters, digitally painted. This way she creates a magical and inspiring universe, one that tells stories of what might have been.
"I'm forever inspired by the place I live, by both the real and magical aspects associated with the island, the landscapes and the folklore, so I love to incorporate that into my illustration"
How long have you been an illustrator? Are you a full time freelancer?
I've loved drawing for as long as I can remember but my first real illustration job (other than small portrait commissions) was for musician Jason Lancaster, in 2014. That was whilst I was in my second year studying illustration at Falmouth University and my first big commission. The album is called "As You Are" and was his debut solo album after being in his other bands "Go Radio" and "Mayday Parade", take a listen, I adore it and I'm so proud to have been a part of it. I do part time work alongside freelance illustration.
Where does your artist name come from, Toadstoolcheeks?
I get asked this a lot but it's actually a very silly, little reason! When I first started posting my work online I would draw my characters with crimson, rosy cheeks covered in little white freckles that must have made them resemble toadstools. I soon after received my first anonymous comment on social media (I think tumblr) regarding my artwork that simply said "Beautiful art, I love the toadstool cheeks!" it made me smile so much and so when I made my instagram, that was the username and it has just stuck, I suppose!
Where are you from?
I was originally born in England but I moved to the Isle of Man when I was very young, we moved from there to Hong Kong and back again with my Dad's work so I was quite the little jetsetter! I live in HK from when I was five years old to ten years old so it was where I spent my childhood, I would love to go back and visit, I would definitely bring my sketchbook! I can only imagine how much illustration inspiration I would be able to lap up in Hong Kong.
What type of projects do you usually work on? (clients, commissions, personal projects?)
It's a mixture, really! I have always done personal projects alongside commissions as I think it's important to develop styles and skills as much as possible. I'm always drawing!
How do you promote yourself?
Social media, mostly. I'm lucky enough to be friends with a circle of artists online and we all support each other, It's been amazing to meet and make friends with such creative and like-minded people, that's my favourite part about living in a world so involved with social media.
You live in the Isle of Man. I'm curious, how come you moved there?
I had no choice in it, haha, I was moved here when I was very young and although I moved to Cornwall for university I find myself being drawn back. It's an inspiring place to live in when you're an artist, the landscapes and scenery in some parts of the island are more beautiful than I could ever paint.
Was it easy adapting to a new place to live?
I've actually always lived in very similar places, in small villages or towns beside the sea! Even in Hong Kong I lived on an island so maybe I'm destined to be a selkie or mermaid and live in places like this forever.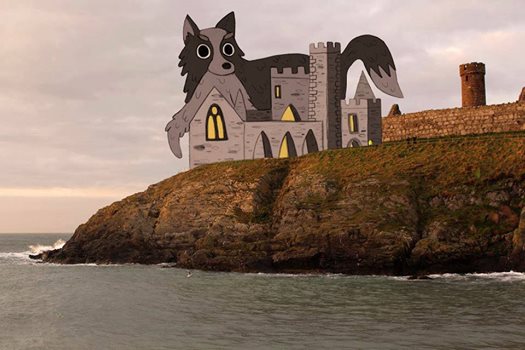 Seeing your illustrations, the island seems like a magical, epic place 🙂 Do you like living there? What do you enjoy most about your surroundings?
It's very beautiful! I like the unique parts of the island such as the native sheep with four horns and the cats with no tails and I love how you're always moments away from a beautiful location, may it be a coast, woodland or hilltop.
What does a day in your life look like?
Right now, not enough sleeping, too much eating and sore hands from all the drawing, but it will always vary! I'm currently trying to balance commissions and personal projects, I do diary comics and would love to have enough for a comic con this year or the next so I try to write down a situation from each day and the best ones get created into a little comic.
In terms of work, what does it feel like, living there? Are there many opportunities?
So far my main clientele has been off island, in places like the US and Australia! As quite a shy, anxious person it's easier for me to promote my work online. But I am always eagerly looking for new local opportunities, I think this year is going to be about attending art festivals and making myself known locally a little bit more.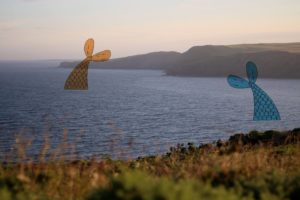 Your illustrations of the folklore of the Isle of Man are so full of life, warm and joyful! Where do you get the inspiration on what to draw next?
I would like to think that my illustration emotes a certain whimsy, I have a childlike wonder and appreciation for the world around me, always eager to capture it with photography and illustration. So my surroundings will constantly inspire me in that aspect but at the same time I've never been one to draw literally or "realistically", I enjoy adding that little bit of myth and fairytale to my everyday life.
Do you read a lot about the island's traditions, myths, stories? Feel free to share with us any interesting stories from their folklore!
I do, I'm currently doing a comic about manx folklore and mythology, I have seen it done time again as a book of short stories but never in comic form. Comics are becoming a lot more popular recently (much to my enjoyment!) and I thought it would be a really good way of teaching children of the Isle of Man about the heritage here.
I've just finished the pages about Manannan, mythical sea God and King of the Isle of Man, he has a cloak of mist and fog that he uses to protect his little Island from enemies. To this day if there is mist on the fells it is referred to as "Manannan's cloak".
What is your process, when you create a mixed media image (like the photos of landscapes, with overlapped illustration)?
From Christmas 2015 when I was gifted my wonderful little camera to now I have been pulling on my wooliest tights (Yes, it really is that cold here, almost always), lacing my doc martens and clambering over the islands clifftops, through forests and over Cornwall's hills to take photos for some primary research. That then developed into using the photos as backdrops for illustrations. I always draw in pencil first and using Photoshop to overlap the illustration onto the image. I then use the multiply tool in layers to colour the pencil drawing in.
Do you draw both digitally and traditionally (pen & paper)?
Yes, always! I'm not good at digital drawing yet, only colouring. So I always draw in pencil first and sometimes I like to return to my faithful watercolours but the colour is usually digital now as it's much quicker and easier.
What tools do you use?
Mechanical pencils are my favourite thing in the world, I adore using those to sketch with, any brand will do! I normally just buy cheap ones from the pound shop. I'm a little bit of a sketchbook collector, too. I always draw in sketchbooks, they're fun to look back on a year later. My favourite ones are ring bound and the gsm of the paper has to be over 100, preferably 200 so I can paint in them freely without rips or tears!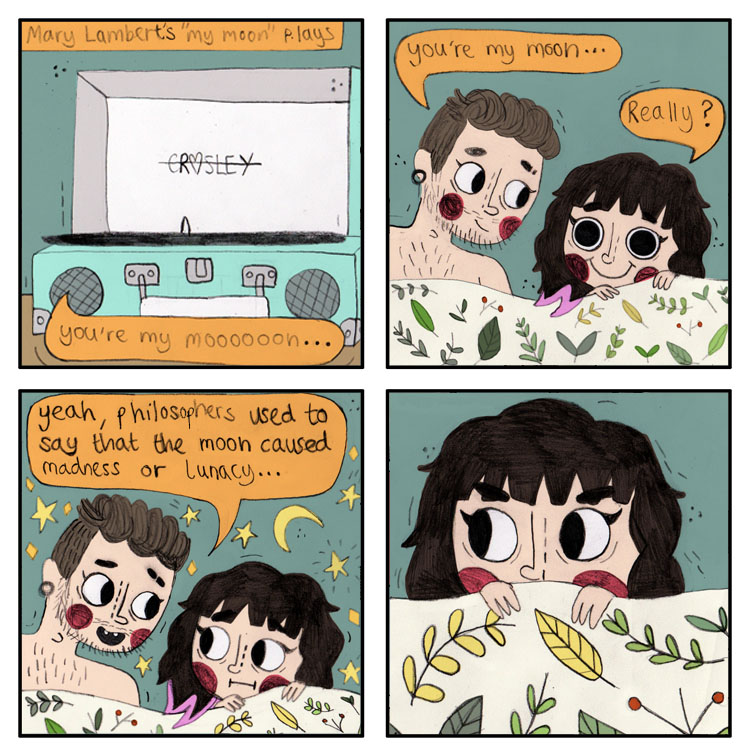 Financially, how do you make a living from being an illustrator? What streams of income do you have?
I would love to say it's easy but it isn't! I have a part time job at a bar because with right now with my freelance illustration, work can always be up and down! Some months I'll get a lot of work and others I'll get close to nothing so I need something more reliable alongside to make sure I can pay the bills!
What do you want to do next?
Finish all my projects by the end of the year! I have a lot of personal ones which I would love to have published. Sooner than later, so I can attend some conventions! 🙂
See more of Bethany's work on her: website |  tumblr | etsy shop | instagram | twitter | facebook